Module 1
Introduction
Start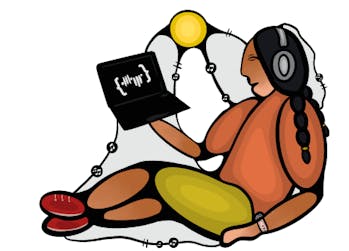 Approx Time to Complete
1.0 Hrs
Pro Tip
The slide decks have extra info not included in the online lessons.
The Notebook can be printed but has more functionality when used digitally.
Module Overview
In Module 1, students learn about the connections between coding and music, create an EarSketch account, learn about the Digital Audio Workstation (DAW), and have a little fun with tempo!
Students will learn about Indigenous topics throughout this program while celebrating Indigenous artists, activists, and entrepreneurs. While the developers tried to include representation from various nations and territories, we encourage teachers to localize the curriculum by prioritizing local artists, activists, entrepreneurs, Elders, and Knowledge Keepers. 
Module Resources 
Module Outline
1
Minds-On: The Coding & Music Connection
5 minutes
2
Action: Intro To Earsketch!
45 minutes
3
Consolidation/Reflection
5 minutes
4
Extensions
15 - 95 minutes